Changeable Flex-Change Letters
Flex Letters - Flex Change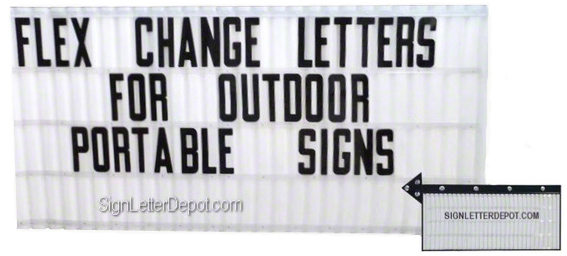 Plastic Changeable Letters
Flex Letters for Portable Signs, Flashing Arrow Signs, and Custom Signs and Reader Boards. Our Flex-Change Letter sets are screen printed on flexible 030 mil (about the thickness of a credit card) UV protected plastic. Bend or flex letter to insert into the portable sign flex letter track. Flex-Change plastic letters are for Signs that use 030 Flex Letter Track also called "Texas Track". Refer to catagory "Sign Letter Track" to determine the type of track to match your signs changeable letters. Note: This type letter is not recomended for signs that have enclosure doors. Refer to DR Acrylic Letter for enclosed signs.
Letter Buying Guides Get the correct type and size letter for your Sign
How to Determine the Type of Letter for your Sign | How to Determine the Size of Letter for your Sign
FREE SHIPPING on all 030 Flex-Change Plastic Letter Sets within the lower Continental 48 States
Additional Shipping charges will apply to AK, HI and the US Territories, email us for a quote

Copyright © 2009-2011 Signletterdepot.com. You may not, copy, download, publish or distribute any content including written content descriptions images except with our express written permission.