How to Determine the Size of Letter for Sign.
Measuring Letters


Flat plastic letters are measured by
1) The size of the letter printed on the plastic panel.
2) The size of the panel, which is the measurement that determines if the panel will fit in the sign track.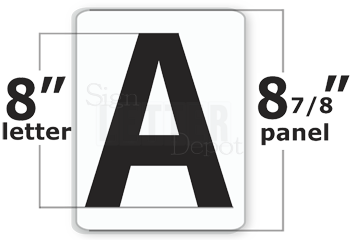 For example: 8" on 8 7/8" letter.
In this example, the height of the plastic panel is 8 7/8". Some manufactures will make and 8" on 9" letter. Most signs have their tracking spaced so size both panels; both the 8 7/8" and the 9" inch panel will fit.
Two categories of Changeable letters:
Flexible Plastic Letters
Take a measurement between the tracks that hold the letters, including the grooves the letters fit into. Use this measurement to cut a blank out of poster board to check the fit in the sign letter tracks.
To Review, following these steps you should be able to determine the letter you need by

How thickness/flexibility is your letter?
What kind of track is on your sign?

And

What is the size of the letter? What size is the plastic panel?

Or

Measure the distance between the sign letter track including groove the letters fit in.


And
Cut out a card board blank to test the fit of your measurement.
Returns are costly. By following these steps you should get the correct type and size changeable letter your need for your sign. Contact us if you need help determining the right letters for your sign.
© 2011 Sign Letter Depot Debbie+