Product details page tabs
Flex-Change Letter Track
Letter Track is what holds the letters on the sign. Our Flex-Change Letter Track is made of polycarbonate plastic and is used with .030 thin flexible letters. Each strip is 7'6" long (or 90 inches) and fits 8' sign panel or can easily be cut to the size you require. With this Track you can Build your Own Marquee Sign, Portable Sign, Sidewalk Sign, Reader board or use it to replace damaged worn strips on an existing sign.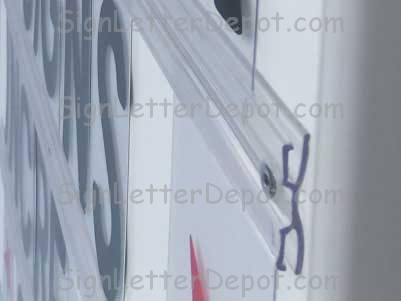 To attach drill a hole in the center of the track and use rivets or screws to your letter board.
Minimum order is 5 pieces.

Use Nylon Rivets to mount tracks on sign panel. Sold Seperatly

Copyright © 2009-2011 Signletterdepot.com. You may not, copy, download, publish or distribute any content including written content descriptions images except with our express written permission.