Product details page tabs
Flex Letter Track


Flex letter track is the tracking that holds .030 mil flexible plastic letters on a sign board. This is a set of 10 tracks, each piece is 7' 6" (90 inches) long. Ten pieces of track will make 4 rows of letters on a 2 sided sign.
Flex track also called Texas track is used to make or repair an 8' long message board or can be cut to the size you need. This track is for Flex Change or flexible plastic letters between .020 - .030 mils thick which bend to be inserted between the tracks and hold the letters in place.
Flex track is NOT made to be used with thicker rigid style letters, Gemini Pronto or Zip Change letters. Rigid type lettering uses "Push Up Drop Down Track"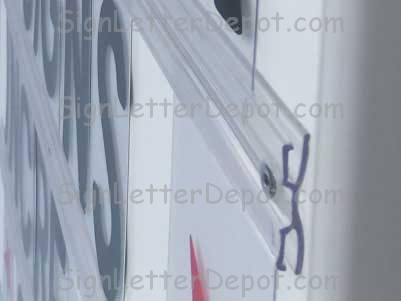 Polycarbonate plastic track is very durable and will withstand harsh conditions. It is easy to bend, roll and drill and will not chip or crack. To attach simply drill a hole into the center line of the track and use screws or rivets to attach to the sign panel.
Note: Use this track with Changeable Flex-Change Letters

Use Nylon Rivets to mount tracks on sign panel. Sold Seperatly
| | |
| --- | --- |
| Flex Letter Track for Flexible Letters | Flexible Letters Bend End to End |
Use Flex Letter Track with Flexible Plastic Letters Sold Seperatly. Find Flex-Change Flexible Letters Here


Flex letter track is used with Flex Letters. Flex letters will not hold suction using a letter change pole.

Most overhead signs requiring a letter changing pole to change letters use the stiffer Rigid Marquee Letters, Gemini Pronto Letters or Zip Change Letters
Telescoping Sign Letter Change Poles are used for overhead signs with "Push Up Drop Down Track" that use Rigid, Pronto or Zip Change Rigid Letters. Choose Push Up Drop Down Track and Rigid, Pronto or Zip Letters If you want to build or re-track an overhead sign and use a letter changing pole to change the letters.

Copyright © 2009-2011 Signletterdepot.com. You may not, copy, download, publish or distribute any content including written content descriptions images except with our express written permission.