Changeable Rigid Marquee Letters
OUTDOOR SIGN LETTERS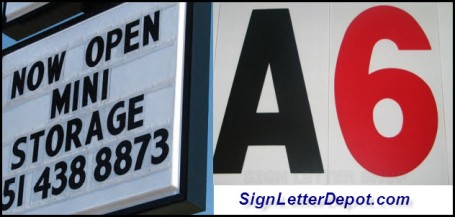 Rigid Marquee Acrylic Letter Sets
Harder, tougher and stiffer than flexible plastic letters, rigid acrylic outdoor letters are screen printed on DR® Acrylic or polycarbonate plastic panels .060 mils thick and will not discolor, yellow, crack or get brittle. Rigid marquee outdoor letters are frequently used with custom outdoor changeable letter signs and overhead elevated signs which require a letter changing arm or extension pole. Outdoor marquee signs using rigid letters will be tracked with rails called "Push-Up Drop Down-Track" that hold the rigid letters on the sign. Changeable acrylic plastic letters are used for many school signs, church sign, restaurant signs and commercial grade business signs. In order to mount the letters to the sign, push the letter upward into the bottom of the top track, then push the letter flat against the sign face and let it fall or drop down into the bottom track Outdoor Acrylic Letters may be used as replacement letters for Zip Change or Gemini Pronto Letters.
Letter Buying Guides Get the correct type and size letter for your Sign
How to Determine the Type of Letter for your Sign | How to Determine the Size of Letter for your Sign

Copyright © 2009-2011 Signletterdepot.com. You may not, copy, download, publish or distribute any content including written content descriptions images except with our express written permission.