Product details page tabs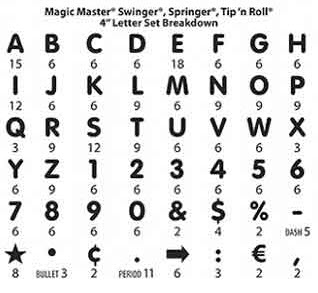 Swinger Deluxe 4" Letter Set
Set of 4 inch black letters on white plastic panel
This Letter Set is used with
Swinger Sidewalk Signs

Springer Sidewalk Signs

Tip 'N Roll Sidewalk Signs
NOTE: The letter size is 3 3/8 inchs printed
on a 4 3/8" high white flexible plastic back.
The standard letters set consists of
314 Letters, Numbers and Symbols.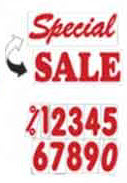 Plus
2 - Double sided (reversible) red 9 inch "Special"/"Sale " headers
22 - 8 inch tall red numbers and "%" symbol
Free Shipping within Contental US
Buy a New Swinger Sidewalk Sign - See our complete selection

Copyright © 2009-2011 Signletterdepot.com. You may not, copy, download, publish or distribute any content including written content descriptions images except with our express written permission.