Product details page tabs
Nylon Rivets for Sign Letter Track
Nylon push rivets (anchors) for attaching letter track to sign panel.

Drill a hole in the letter track every 6 to 8 inches, insert the rivit in hole and push or tap the anchor through. This expands the shaft and holds the rivet (anchor) in place.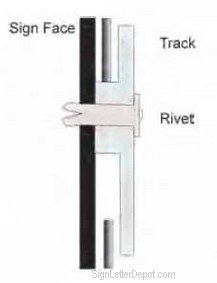 Use a #11 drill or .125 background
drill
for a . 191 diameter hole
Use a 7/32" drill or .187 background
drill for a .219 diameter hole
When drilling acrylic tracks
100 rivets per pack.

An $10 handling fee will be add if total order is under $40.

Copyright © 2009-2011 Signletterdepot.com. You may not, copy, download, publish or distribute any content including written content descriptions images except with our express written permission.