Product details page tabs
Sidewalk Sign - Curb Sign with Changeable Letter Message Board
The QLA™ Quick-Loading "A" Frame Curb/Sidewalk Sign. The quick load grooved channels will accept almost any 24" x 36" x 3/16" or 4 mm substrate for signs and allow the sign panels or faces to be easily Changed out quickly. The "EZ Lock-in" feature offers extra security plus the curved surface of the sign panel deflects the wind up to 30 miles per hour.
The Tip-N-Roll feature makes it easy for the sign to be relocated or moved without carrying or lifting. Excellent in rainy weather! QLA™ Sidewalk/Curb signs are manufactured with rustproof technopolymers and internal steel supports for increased durability and additional stability during windy and rainy conditions. The thin 29 inch (736mm) profile will easily fit through any doorway. The QLA™ Changeable, rolling curb/sidewalk message board sign is two sided with 7 lines and a 24" x 36" message area with white panels and 4" letters. Fast and easy to assemble.

Contents include:
2 - (600 x 900 x 10mm) or 24" x 36" x 0.5" white panels with letter tracks on each side

1 - letter set of 314 pieces - 4" letters, including numbers & symbols (Black letters and Red numbers)

1 - letter set of 22 pieces - 8" larger jumbo numbers including % (in Red)

2 - Header panels - Double sided "SALE/Special" (in Red)

2 - Sign uprights -Color: Black one with wheels, one without to Tip-N-Roll

3 - Black support cross tubes

4 - No slip n slide feet

Assembly hardware included.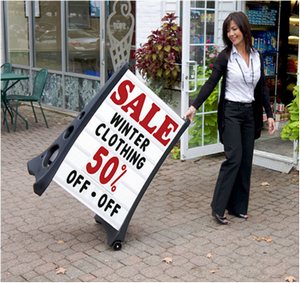 Copyright © 2009-2011 Signletterdepot.com. You may not, copy, download, publish or distribute any content including written content descriptions images except with our express written permission.