Product details page tabs
5 Inch Roadside Sign Board Letter Set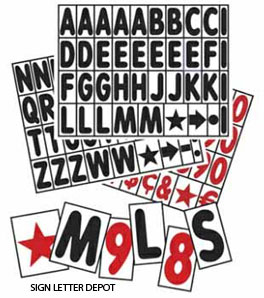 5 inch letters,

numbers and Pronunciation symbols sets of black letters with red numbers

on 6 1/2" high
white
flexible plastic panels.
These are replacement letters for:
Swinger Roadside message board sign,

Swinger Extra Large Message Board

Springer Extra Large Message Board

QLA Extra Large Message Board
Choose from a 289 count letter set or a 421 count set
and you can add the a 24 piece set of 10 inch Jumbo Red Numbers with 2 headers SALE / SPECIAL - Select the check box to add the 10" Red set.
Physical address required. This item ship by UPS.
These letters fit this type of Roadside Sign.
The sign is not inlcude. Click Here to Buy this Sign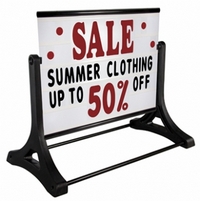 Copyright © 2009-2011 Signletterdepot.com. You may not, copy, download, publish or distribute any content including written content descriptions images except with our express written permission.